Vision
A world where reliable and freely-available relevant soil information is properly used to address global environmental and social challenges.
Mission
As the custodian of global soil information we produce, gather, compile and serve quality-assessed soil information together with our partners at global, national and regional levels. We stimulate the use of this information to address global challenges through capacity building, awareness raising and direct cooperation with users and clients.
Our role
General
We are a service provider to the international science communities, policy communities and the private sector dealing with issues including food production, land and water management, climate change, environmental quality, social justice, land use planning, and biodiversity. We do this by providing quality-assessed soil data and interpreted soil information. We maintain a deep understanding of soil assessment, soil analysis and soil data handling. ISRIC is a science-based organisation, meaning that the approaches and methods we use to build our products are based on sound science. We participate in scientific research in the field of soil measurement, soil mapping, pedometrics and soil information standards, aiming to generate knowledge which we use to innovate our methods. 
ISRIC is an independent foundation by Dutch law. We are based on the campus of Wageningen University and Research (WUR). We have a service level agreement with Wageningen University, formalising operational support. Our presence on the WUR campus provides ample opportunities to set up strategic cooperation projects with WUR research groups. ISRIC funds a special professorship on 'Pedometrics and Digital Soil Mapping' at Wageningen University, to stimulate further research in this field.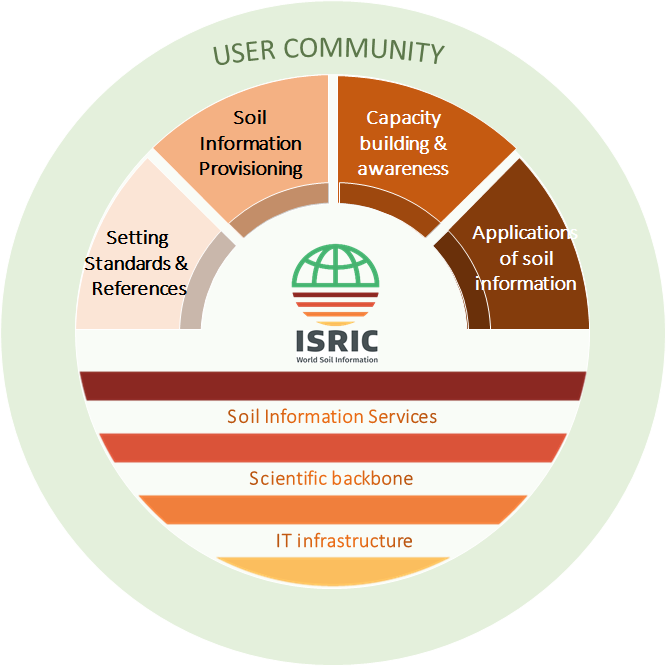 Our work is organised in 4 workstreams (see figure above):
1. Setting Standards and References
ISRIC will follow available international standards for building and sharing its soil information products. This includes standards for soil mapping and soil classification, soil measurements (both physical and chemical) and standards for data exchange and interoperability of soil data. However, standard development is a continuous effort, often carried out by various partners for instance in IUSS working groups and the Global Soil Partnership Pillar 5. ISRIC strives to be part of these processes because well defined standards are important for the development and acceptance of our products and because we believe ISRIC is well positioned to contribute from an independent position with a global perspective.
 
2. Soil Information Provisioning
We follow a hybrid approach. First of all, we assist partners in their efforts to build national and regional soil data information systems, by providing knowledge of soil sampling, soil description and measurement, soil laboratory analysis, data management and web services. These contribute to soil information systems based on local data and local knowledge of soils and terrain, therefore providing local information for addressing local issues. Capacity building is the central element in these efforts. This approach can be followed on a bilateral basis, i.e., directly with institutions in a country, and a multilateral context, for instance within the Global Soil Partnership.
At the same time we build global soil information systems by bringing together available global soil information and using global data sets as covariates. The resulting globally-consistent soil information system is primarily aimed at global studies and assessments. These projects are carried out in close cooperation with an international community of data providers, modellers and remote sensing specialists.
The two approaches are highly complementary and enrich each other. The global product can be beneficial to national level initiatives. The global system can be used as a first approximation for data scarce areas. Cost-effective sampling schemes for generating new soil data can be designed using this global product to identify areas with the most uncertainty. On the other hand, the compiled data resulting from a national effort can serve as input to the global system. National or regional maps can be merged with the global information system in order to increase its accuracy and thus its value. We believe these two approaches should be pursued simultaneously, as they primarily serve different user bases and are able to enrich and improve each other.
 
3. Capacity Building and Advocacy 
Through cooperation with national partners, dedicated capacity building programs and our proactive engagement with potential users, both from the soils community and others, we aim to build an active and competent user community that is able to use our products in a proper way, and that is able to specify their needs for additional soil information. This helps us to fine-tune the design of our products. The World Soil Museum is an important instrument in building this user community. It is also used to teach the general public about the nature, geographic distribution, management challenges, and even the beauty of soils, and the important role they play in solving many of the environmental challenges facing the world.
 
4. Derived products
We actively engage with potential users of soil information to develop derived information products geared towards their needs. These are typically products consisting of soil data and other spatial data combined with methods for analysis and / or simulation. Examples are products that assess land degradation, land suitability, soil fertility and hydraulic characteristics of the landscape. These products are made on request, and (co-)financed by the user. ISRIC invests modestly in development of frameworks, methodologies and / or feasibility studies to anticipate the demand for specific derived products.
 
Code of conduct
Discrimination against, and harassment on the basis of an individual's race, colour, religion, sex, sexual orientation, handicap, familial status, or national origin have no place at ISRIC – World Soil Information. We adhere to transparent, respectful interaction between people from different cultural backgrounds and we are against unethical and/or inappropriate behavior.