World Data Centre for Soils (WDC-Soils)
Share on:
The remit of the World Data Centre for Soils (WDC-Soils), as a regular member of the ISC World Data System (WDS), is to provide a focal point for soil-related collections and information services, and to ensure their long-term preservation and archiving. Our holdings include soil specimens, country documentation, and geo-referenced databases. Many of these resources are available freely on-line. They can be used to underpin a wide range of studies of environmental, societal and economic sustainability.
---
Contents
---
Main entry points to ISRIC-WDC Soils holdings
Accreditation and certification
ISRIC was first accredited as the 'World Data Centre for Soils' by the ICSU World Data Center (WDC) System in 1989. Subsequently, in 2011, after the WDC system was merged into the ISC World Data System (WDS), we became a WDS regular member. This accreditation was formally renewed by the World Data System - International Program Office  (WDS IPO) in April 2023. In November 2023, we were re-certified as a trustworthy data repository by the CoreTrustSeal (CTS) Standards and Certification Board on November (see PDF). 
Regular Members are organizations that are data stewards and/or data analysis services (e.g., data centers and services that support scientific research by holding and providing data or data products). They are evaluated on a 3-yearly basis as part of the comprehensive and transparent ISC-WDS accreditation process; this includes re-certification according to the CoreTrustSeal (CTS) trustworthy data repository requirements. These regular reviews help us to assess and improve the quality and transparency of our processes and procedures. For example, a formal 'continuity plan' for the collections will be included in a revised service level agreement (SLA) with Wageningen UR.
Members of ISC-WDS are registered as a Participating Organization of the Intergovernmental Group on Earth Observations (GEO).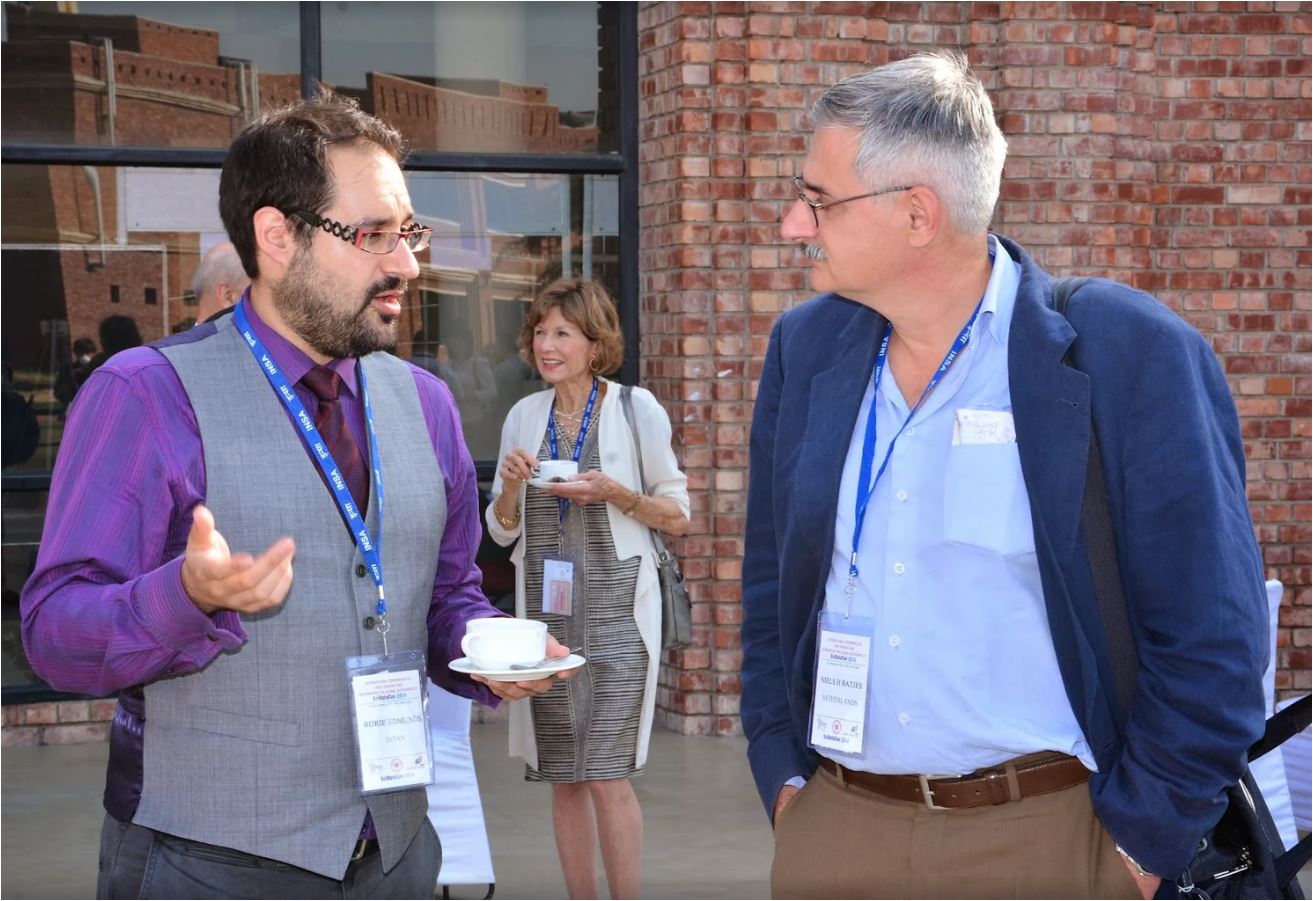 WDS Members' Forum (02 Nov. 2014, Jawaharlal Nehru University Convention Centre, New Delhi)
Trusted steward of soil information
ISRIC is a regular member of the World Data System (WDS). The World Data System (WDS) is an Interdisciplinary Body of the International Science Council (ISC, formerly ICSU). The mission of the WDS is to support ISC's vision by promoting "long-term stewardship of, and universal and equitable access to quality-assessed scientific data and data services, products, and information across a range of disciplines in the natural and social sciences, and the humanities."
ISC-WDS aims to build worldwide 'communities of excellence' for scientific data services. It certifies Member Organizations —holders and providers of data or data products— from wide-ranging fields by using internationally recognized standards.
WDS Members are the building blocks of a searchable common infrastructure, from which a data system that is both interoperable and distributed can be formed. As such, member organizations of ISC-WDS have a strong and tangible commitment to open data sharing, data and service quality, and data preservation.
We follow clear procedures/workflows for safeguarding, quality-assessing, standardising / harmonising and serving soil data to the world, using FAIR principles.  An important element is the continuous development of our spatial data infrastructure (SDI), based on free-and-open-software (FOSS) components though which we serve our diverse user community.

Main components of ISRIC WDC-Soil's spatial data infrastructure (Credit: SDI team) 
We regularly report on new developments at our center during the WDS Members Forum held in conjunction with bi-annual SciDataCon conferences. During the October 2023 members forum (IDW, Salzburg), we virtually presented an update of our 2020-2022 activities and new developments foreseen for 2022-2024. 
A summary of activities carried out by ISRIC WDC-Soils between 2020-2021 is available here.
Data policies and Service Level Agreements
• Collection Management Policy 
• Digital Data Preservation Policy 
• Privacy and Personal Data Policy (statement)
Collections and information services
Within the WDS, ISRIC provides the focal point for soil-related collections and information services, as custodian and creator of global soil information.
We maintain and safeguard a range of soil specimen holdings (monoliths, samples, thin sections, and hand specimens) through the World Soil Museum. Another important element of our work is the data rescue programme. This programme is aimed at safeguarding older (legacy) data (maps, reports, point data) which may be at risk of loss or deterioration, and digitizing these materials for on-line distribution. These and newer materials, as contributed/shared by our partners, provide the 'raw' data for further quality control, standardisation, harmonisation, and analyses in order to serve the international community with quality-assessed soil data (point, polygon, grids).
The physical collections can be consulted on site at our premises in Wageningen and/or on-line through the virtual soil museum respectively the ISRIC Library and map collection. Alternatively, our collection of digital soil data/maps can be accessed through the ISRIC data hub. An overview of our collection of standardised soil profile data for the world can be viewed via the WoSIS dashboard. The SoilGrids web platform provides access/download facilities for SoilGrids250 soil property layers as well as the underpinning soil profiles (WoSIS).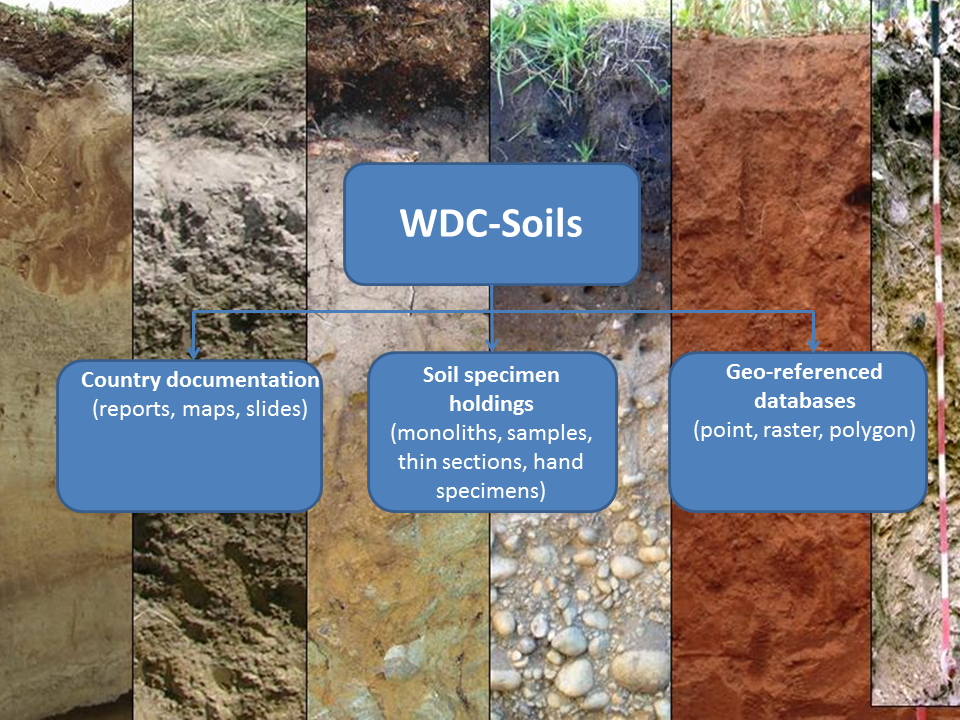 Scope of ISRIC WDC-Soils physical and digital holdings
History
Some 23 years after its inception, in 1989, ISRIC obtained the status of ICSU World Data Centre in recognition of its "unique collection of soil monoliths, maps and reports on the geography of soils and related natural resources". Initially named WDC for Soil Geography and Classification, it was later renamed to WDC-Soils to reflect the broadened scope of its long-term soil data stewardship (both physical and digital data). 
Since 2011, ISRIC is a regular member of the ICS (formerly ICSU) World Data System. In recognition of its long-term soil data stewardship, and role of trustworthy provider of world soil information, it has kept the name 'WDC-Soils'.