ISRIC strengthens partnership with Nigeria Institute of Soil Science
Share on:
09 Jun 2021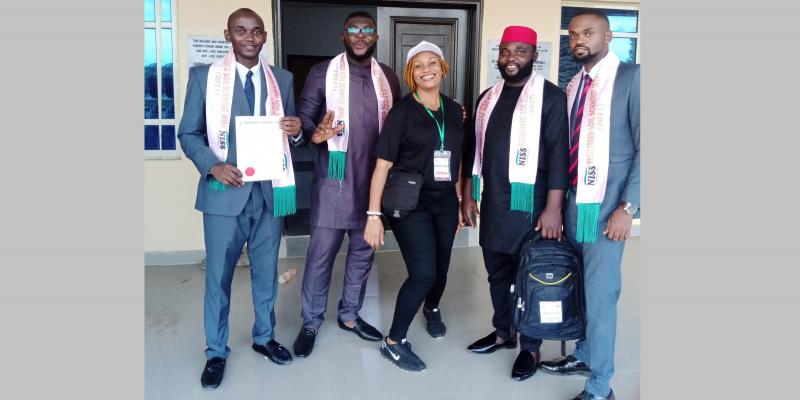 New members of the Nigeria Institute of Soil Science, inducted in May 2021
The Nigeria Institute of Soil Science (NISS) and ISRIC – World Soil Information recently established a collaborative agreement to work closely together. The collaboration aligns with the NISS Action Plan which includes five pillars of action on key work such as strengthening of the Nigeria Soil Information System.
Together, NISS and ISRIC will mutually strengthen one another by contributing to an active community of practice on soil information workflows and joint development of soil information applications such as soil fertility advice or land degradation assessment. Future activities between the two institutions could include researcher exchanges, joint research, exchange of academic information, and joint publications.
"The partnership with ISRIC is a welcomed development," said Prof. Victor Chude, CEO of the Nigeria Institute of Soil Science. "This is because it strengthens NISS to effectively implement its mandate of professionalizing soil science while efficiently managing and protecting Nigeria's soil resources to ensure high agricultural productivity and food security in the country."

"This partnership is a very good example of how ISRIC wishes to work together with national soil information institutes," said Rik van den Bosch, director of ISRIC – World Soil Information. "Our partnership with NISS will be a mutual learning experience and a building block for an Africa-wide community of practice with soil information providers, contributing to increased availability of actionable soil information."
The Nigeria Institute of Soil Science's five year action plan is well aligned with ISRIC's own areas of work, particularly the goals of enhancing the quality and quantity of national-level soil information around the world and promoting sustainable soil management.
This partnership also aligns with the ISRIC-coordinated project Soils4Africa, which is developing a soil information system using continent-wide soil sampling framework with uniform methods to gather and compile soil data.
"Activities of the Soils4Africa project provide a strong basis for strengthening collaboration with countries in Africa," said Mary Steverink-Mosugu, ISRIC project coordinator for Soils4Africa. "The NISS-ISRIC collaboration is therefore well-timed and should make useful contributions to the soil information base of the soil science community in Nigeria."