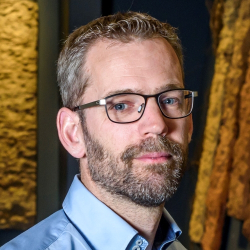 Senior digital soil mapping expert
At ISRIC – World Soil Information, Bas manages and contributes to projects that develop soil information products and soil information systems, and takes care of the operational management of the institute.
Bas Kempen is a soil scientist who holds a PhD in digital soil mapping from Wageningen University, an MSc in Soil Inventory and Land Evaluation and an MSc in Geo-Information Science and Remote Sensing from the same institute. His professional career evolved around developing soil information products with digital soil mapping techniques in various countries around the world, including Namibia, Rwanda and Tanzania.
Bas started his career at Wageningen Environmental Research where he worked on updating soil maps of Dutch peatlands. He joined ISRIC in 2012, where he started coordinating digital soil mapping projects and contributed to the development of ISRIC's flagship product 'SoilGrids'. Besides digital soil mapping, Bas is interested in sampling theory and designing sampling schemes for soil data collection and monitoring. He served as the lead investigator for the design of a continental soil monitoring scheme for the Soils4Africa project.
Bas actively participates in ISRIC's training programmes. He develops training materials and has delivered training courses on digital soil mapping for soil scientists in Tanzania, Rwanda, Ethiopia, Namibia, Kenya, Nepal, India, and Russia. He also teaches during ISRIC's annual spring school.
In his free time Bas enjoys playing strategic board and card games, bird watching, playing badminton and reading.
Bas speaks English and Dutch.