Join "Earth as Superfood" symposium on June 27
10 Jun 2022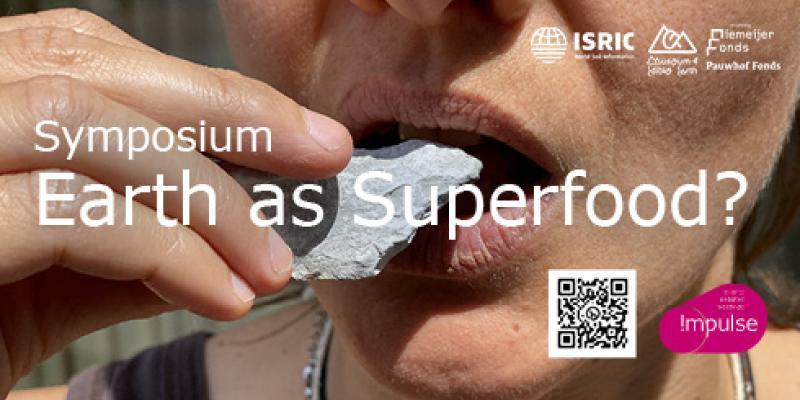 Eating soil is an old and established culturally important practice in many places around the world. In many countries the action of eating earth and soil-like substances (geophagy) is a means of spiritual cleansing amongst other benefits (cf. Pan de Dios in Guatemala). There are even restaurants that serve soil as food, such as in Japan. The practice of eating earth and soil-like substances is also promoted by influencers. Will soil consumption become more widely accepted or even develop into a 'superfood' practice? What would be the implications of this?
On Monday, June 27 from 14:00-18:00, you can attend a symposium where artist and Museum of Edible Earth founder masharu invites an interdisciplinary conversation about considering soil a superfood. The symposium is an extension of the Museum of Edible Earth's guest exhibition on Wageningen University campus co-hosted by Impulse and the World Soil Museum last year.
The event is free, registration is necessary. Please register here: https://bit.ly/earthassuperfood
In this symposium, speakers will consider the possibility of "soil as superfood" with diverse considerations to contextualize the conversation, such as:
Access to food is a question of utter importance. The ever-widening contrast between rich and poor makes us question our relationship to food, at a time of superpowers diving into over-consumption and waste while in other areas the access to sustenance is a daily battle.
In the utopia of earth as a superfood, how would we deal with polluted soils? What about the polluting waste, such as outputs from nuclear energy, tainting our soils for centuries?
Those who seek an ecological transition, approached from an intersectional point of view, advocate for awakening, non-anthropocentric ethics and enhancing the dialogue between humxn and non-humxn. Reconnecting to an awareness of our environment in order to exist sustainably, within a virtuous cycle of healing of the above-mentioned issues. Through the archetypes of Mother Earth (Mama Baranka, Pacha Mama, Gaia etc.), the earth element can also be approached as a spiritual food.
View the symposium agenda and register here: https://bit.ly/earthassuperfood