ISRIC Spring School completes first online courses
27 May 2021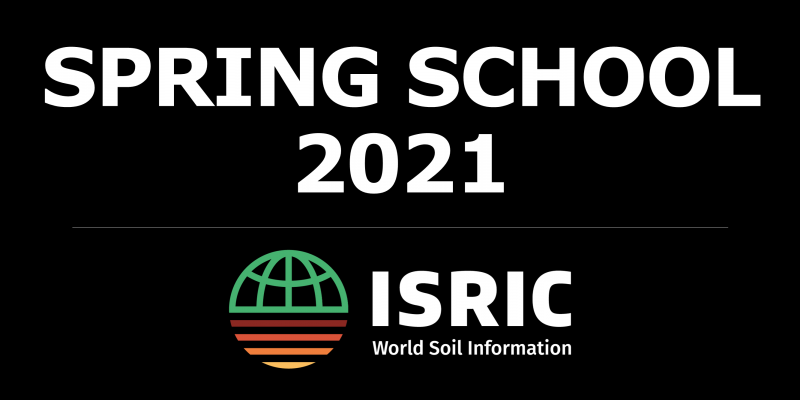 On Friday, May 21, the ISRIC – World Soil Information Spring School wrapped up its 2021 courses on soil assessment and digital soil mapping, completing the eighth year of this signature ISRIC program.
This year, the two courses were offered online for the first time given coronavirus dynamics which limit travel. Sixty-four participants representing 28 countries attended the "Hands-on Digital Soil Mapping," and "World Soil Assessment" courses.

The five-day "Hands-on Digital Soil Mapping" course offered a rigorous program with many applied exercises. Participants heard from nine lecturers about methods and software for soil data management, analysis and mapping within the R environment, including geostatistics and machine learning. View the full program here. Participants said:
"Course content provided very good theoretical background which was aligned with real practical application which was great."
"That's the best organized online course I have attended! I have participated many online courses and in most of the cases it ended up with a disappointment, because there was no interaction. With the combination of Teams and Zoom, the course was very interactive."
The three-day "World Soil Assessment" course provided participants with a robust understanding of international standards for soil classification and assessment including guided small group exercises. View the full program here. Participants said:
"I especially loved the mixture of lecturers and diversity of applications for soil classification."
"This was honestly the most well-organized course I've attended since the beginning of the pandemic and all-virtual classes. The number of participants was optimal for interactions and the use of MS Teams instead of a Zoom chat was really a smart way to make documents and discussions easily available and lasting longer than the duration of the class."
Both courses took a virtual excursion through ISRIC's World Soil Museum, always a highlight for Spring School participants. Take the tour yourself by watching the video below!